Discover more from Big Discourse Energy
Picture me bloggin
Notes on Being Put in Your Place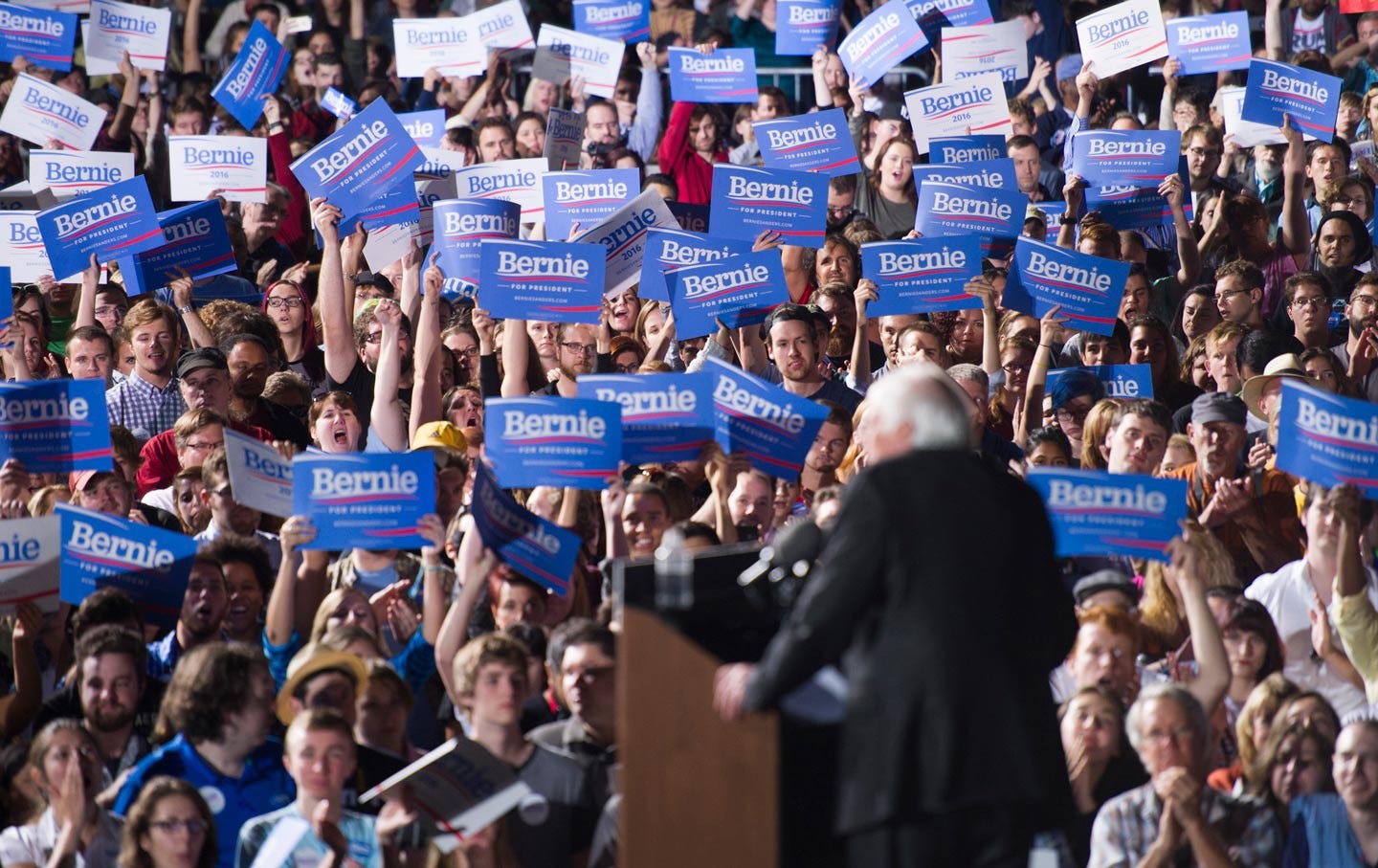 As of the writing of this blog, Bernie Sanders has dropped out of the race to become the Democratic presidential nominee; a move that had been inevitable for over a month. Once Joe Biden successfully consolidated power amongst the democratic elite and older voters more interested in the return of "order" and a mystical sense of normalcy, the progressive arm of the base and leftist Sanders supporters began to feel that impending sense of doom known as being "put in your place" by the power structure. Some will tell you that's not what this is though—instead claiming that Sanders' campaign was full of bad actors, pie-in-the-sky idealism, and that Sanders was just another old white man full of old white male rhetoric.
These arguments though, only created a lot of bad blood and resentment from voters tired of a country seemingly content to let the wealthy drain it for all the resources it has left as it hurdles closer to environmental and economic collapse. I don't (and won't start to) pretend to know everything about politics or what the solution to fixing things are, but as a black person living in America, I know a thing or two about being put in your place.
**************
The worst thing about the obsession with defeating Trump purely for "restoring order and normalcy" is the implication that things were good (or even good enough) before Trump became president. For all his cartoonish, mustache-twirling villainy, much of Trump's term has consisted of accelerating the country towards fascism much quicker, and more transparently, in a way that a competent republican president would do anyways except much more covertly. It's not to say that defeating Trump isn't important and necessary, but building that out as your main platform turns an election for the highest office into an issue of decorum rather than deeply serious topics like wage disparity, healthcare, and environmental concerns which plague a large swath of this country. These are the people who do not have the privilege to make Cheeto jokes about Trump on Twitter all day.
*************
I lost all hope in politicians during the Obama presidency. Like most young people, I bought into a candidate who projected as progressive, thoughtful, cool, and invested in fixing the country's failing medical system. But over time that enthusiasm quickly dissipated in the face of Obama's maddening obsession with "reaching across the aisle" and meeting the republicans who hate him halfway in a show of constant, unreturned good faith. As the first black president, I can't completely blame him. In many ways he was everything a first black president of the USA had to be: polite, constantly acquiescing, non-threatening, and mostly unwilling to do anything that might make the most cynical citizens think he shows favoritism towards the black population. It couldn't make him less hated for his race though ironically enough.
Obama was our most respectable president and in a lot of ways represents the issue I have with society and culture now. He was aesthetically perfect: cool, well-mannered, articulate, and it was very easy for his ardent supporters to ignore just how ineffectual he often was or the problematic foreign policies he promoted, particularly as they were more invested in defending him from racists. To desire a return to that period means being privileged enough to want to not have to consider politics, getting to ignore the simmering resentment from the working class and impoverished who need more from a president than being well-spoken and mature.
The closest I've come to feeling that youthful exuberance again happened with Bernie Sanders. Thing is though, like most Sanders' supporters can tell you, it's less about the man than the movement. Bernie represented real change to many mostly by unabashedly calling-out the power structure and demanding that the people finally get what's owed to them.
A vote for Sanders was a vote against the regular order and a referendum on the extent of the failures of unchecked capitalism. Whether you find his goals to be "pie-in-the-sky," what set him apart is that you really believe he will fight to get his agenda done because he's clearly shown no problem going at the people who disagree, even those in his own party. A welcome reprieve from the fecklessness of the "reach across the aisle" Democrats. The enthusiasm behind Elizabeth Warren was much the same, but Bernie was the purest, uncut dope: completely funded by donations and unabashed in his animosity towards Wall Street and private health services. It was that same animosity and lack of cultural grace that turned off many however. But if you're paying attention to what's happening in this country, you should have that same anger boiling inside.
**********
Bernie voters on the internet aren't always easy to get along with. It's because most of them are angry, and like Sanders, they have a hard time hiding it. A large part of this ordeal has involved seething with anger and bitterness at the world we're forced to participate in. The pompous huffing over "how we're gonna pay for all this?," the condescension of political insiders and elites, Hilary Clinton continuously waving her disdain as her sour feelings for Bernie keeping her from the office she still feels entitled to bubble on the surface, and the people around me who treat politics like it's pop culture, much more interested in who has the best branding and identity politics over actual policy. All of it stings, all of it grates, and all of it makes you wonder if people are more aware of voting against their best interests than they let on.
*************
Realistically speaking, much like with the first black president, the first socialist president is going to have to seem perfect. They'll have to be physically attractive, young and energetic, and full of the kind of empty, phony branding and sloganeering most people who identify as socialist would likely abhor. They will need to assure the country that everyone will benefit to a point that it doesn't matter that nonwhite people will also benefit.
To win in America they will have to get in the mud and really play its game.
*************
When Trump won in 2016, I knew we weren't going "back," whatever that means. That's what a lot of anti- Bernie folks don't seem to understand. Call it cynicism or pessimistic, but pandora doesn't go back in the box. We aren't testing the waters of fascism to see if it's the right temperature, the country has been radicalized. The real question is do we slink further into evil or, in a last ditch effort to save ourselves and the planet, do we radicalize the other way. Do we take care of the poor? Give them the medical care they need to live, protect education, take care of the environment before it's too late?
This is largely the reason Biden will lose in the fall, though they'll blame it on stubborn Bernie Bros, black people who didn't vote (never mind republicans ramping up redistricting all over the country to ensure low African-American voter turnout), they'll blame the Russians again also; everyone but themselves and their uninspiring candidate because… who cares about inspiration we have to defeat Trump.
There's still a chance Biden wins though, and while that's obviously better, what concerns me most about that is the feeling of content that will wash over a certain segment of the country. They'll be relieved and go back to their brunches and their coffee shops and their self-centered world of privilege as the country stays the same, doesn't grow, and the fascism building long before Trump continues to boil until it becomes too hot to ever cool off again.
*************
Being black in America is being perpetually put in your place. You get told "next time," "you're asking for too much too soon," "progress is inevitable if you're patient." Nothing in this country has ever come about from waiting your turn. Anger can be rude, it can be ugly, but it gets the job done.
Martin Luther King has been neutered and bastardized and watered down by American history; sanitized in an effort to tidy up the nation's image. But as King neared the end of his life, he was losing that fire that made him a superstar activist. He was frustrated, melancholic, and increasingly cynical. It was under this mindset that he warned of the danger of "the white moderate." A proclamation that accurately pinpointed the way in which comfort with the status quo, held by those privileged enough to be beneficiaries, will be our undoing more than anything else.
In my heart, I do believe we're due for a major riot, if not an all-our uprising. Yes, there were the events in Ferguson and Baltimore, but those were protests in which cops instigated the anger of the community. It's time the community makes the nation pay in a way the electoral system won't (and maybe can't). Throughout the country, unions are forming, regaining important cultural relevance in recent years, protests are taking place on the streets, the anger is draped on the faces of the poor, the laborers, the forgotten. Socialism will come, either just in time or when it's too late, but regardless it is coming.
*************
I don't feel great thinking about this during such a dire time, but in the quieter moments I do still believe this can be the turn around. The severity of this disease, it's casualties, and the failure of the government and the healthcare system's profiteering will be the wake up call. While it's too late for Sanders, it's only the beginning for something bigger.